Everything You Need For A Perfect Window or Patio Door Installation On Any Project Type
---
Building a new house or need to replace existing windows? The installation process varies between a wood opening and a new construction opening using a nail fin, so we have written installation instructions as well as "how to" videos for both situations. Additionally, you'll find instructions for specific window styles, FlexScreen installation and removal videos, and mulling instructions. Some installation videos are also offered in Spanish, Polish, and Korean languages so they can be of assistance no matter your need. Installation made simple!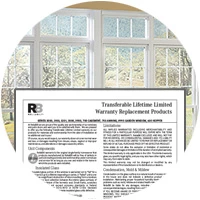 The RELIABILT Warranty
Every RELIABILT window and patio door is backed by a limited lifetime warranty on vinyl, glass and all working parts. Each product is individually registered with a product identification number, making ordering replacement parts throughout the warranty period easy and efficient.
RELIABILT Product Care
RELIABILT windows and doors are designed for easy care and maintenance. Click the button below to download RELIABILT's window and door care and maintenance guide.
Windows 101 Videos
In this section you find a collection of educational videos covering a wide range of topics. Each short video is dedicated to a specific Windows 101 topic of interest.